This year the Winterman in Ottawa was much warmer than last, and I had a great time as I returned to the half marathon after several months off (and running my last half injured).
Check out the video for Get Out There Magazine, then feel free to check out my additional comments and race stats below.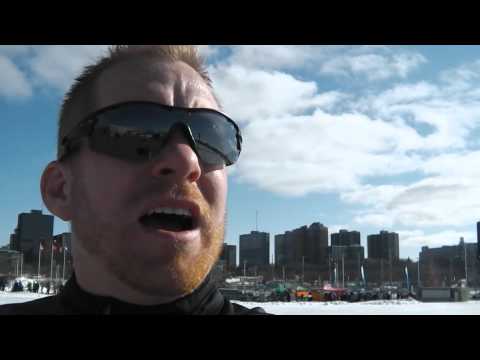 Stuff I Liked
Great support
Well organized
Awesome people
Strong competition
Scenic
Excellent facility for spectators and racers
Stuff I Didn't
Shotgun start (when I see "chip timed", I want an accurate time of my own start/finish, not a mass start)
Food was lacking (just bagels and bananas?)
The loop can get monotonous
Overall, I think this is a great run. The biggest change I would make would be to add timing mats to the start area.
Race Stats
Distance: 21.1k (also available: 3k, 5k, 10k, 42.2k and 42.2k relay)
Cost: $110 (early entry discounts available)
Weather: Sunny and warm (compared to last years -20 start)
Swag: finisher's medal, long sleeved cotton T
Terrain: Roads
Time: 1:35:20
Pace: 4:32/km
Shoes: Nike Free Run 2
Fuel: Water
Overall Place: 22/254
Gender Place: 21/151
Age Group Place: 4/30